C2A opens new branch at the Mediterranean Sea through 400 year old painting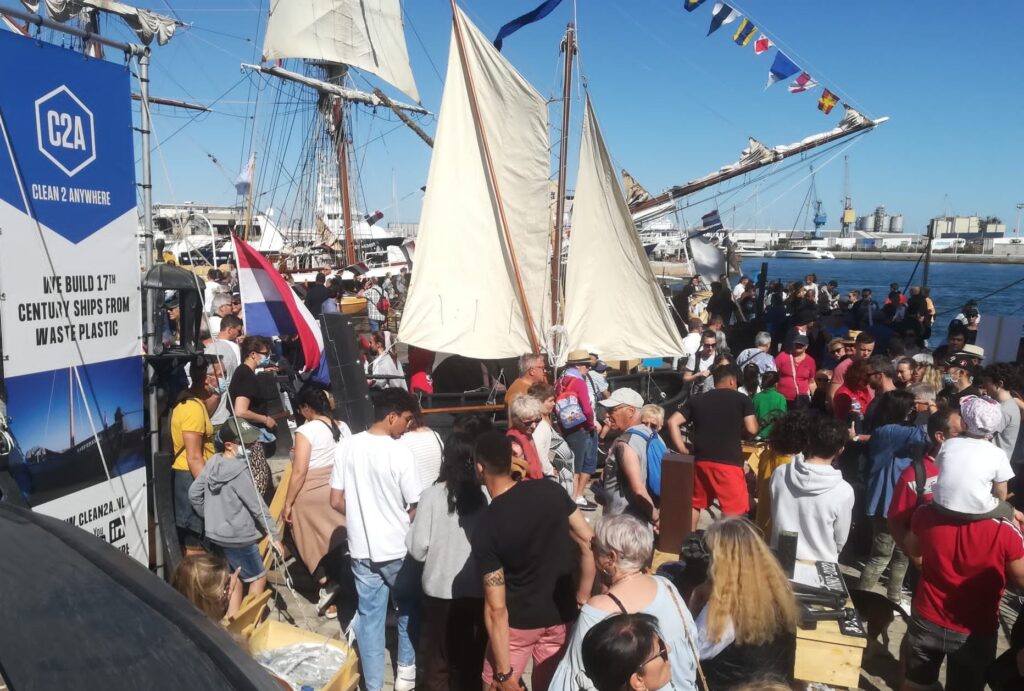 What would our trade mission to Sète bring us? We had no idea. An exciting trip beyond the horizon, we thought. Now we have the opportunity to open our first foreign C2A ship wharf on the southern French coast!
Clean2Anywhere was the guest of honor at the Mediterranean maritime festival Escale à Sète 2022. The organization was lyrical about our projects and wanted us to be part of it. The magical words 'le bateau plastique' ('the plastic boat') excited the French so much, they literally opened doors for us.
We got a beautiful booth on the Dutch quay between the tall ships and the festival organization supported us on site in spreading our mission. She introduced us to the French media, organizations such as the Port of Sète and multinationals like Boskalis and Suez. Moreover, they invited Edwin and Liesbeth for a classy dinner with the Dutch ambassador and the consul (a diplomat who opens doors for Dutch entrepreneurs abroad).
The 'bateaux plastique recyclées'
That the French wanted us to build waste plastic boats in Sète, was obvious. Moreover, the city has plenty of overlap with us. France and the Netherlands share the same ecological and social problems: plastic pollution and a labor system in which many people are sidelined. And like Hoorn, Sète also is a historic port city. The connection was there, but how should a collaboration take shape? We'd find out on the spot, we figured.
For seven days we showed our 'bateaux plastique recyclées' (waste plastic boats) at this festival, where different countries show their ships, traditions and crafts. So was the 'host city' itself. Sète is in fact the cradle of the Mediterranean tradition 'Les Joutes', a tournament of water jousting in which players try to push their opponent from their rowing ship with long wooden lances. A long tradition that the townspeople take a lot of pride in.
Can you feel it coming? The organization joked whether we could build such a Joutes boat from waste plastic.
Missing puzzle piece
Very nice of course, this implicit offer. But why should we do that? And why in Sète and not in Uganda, where we were recently invited to build a boat with a local plastic organization at Lake Victoria? Clean2Anywhere does not just build any boat. We build 17th century ships, because this time symbolized innovative thinking and acting. A mindset that we desperately need on our way to a circular living environment.
And then it all came together…
At the festive farewell of the Dutch delegation, Edwin was presented by the Dutch consul with an image of a historical Dutch painting. It turns out that these water jousting games were also played on rowing ships on the Hofvijver in The Hague, The Netherlands. And the painting dates from – there you have it – the 17th century!
A discovery that the Dutch delegation gladly seized on to trump the French. The cradle of Les Joutes would not have been in France, but the Netherlands. Edwin immediately knew: this was the spark to ignite a C2A adventure in France and to open a branch in Sète.
There, on that stage, we pledged our very first international boat building collaboration: an exchange project to build two 17th century Joute boats from waste plastic. A group of French youngsters will build one in Sète, a group of Dutch youngsters does so in Hoorn. During construction an exchange program follows in which they experience a next level personal growth. And we expand our mission by also letting the French discover that throwing away is a waste!
The duel in 2024: France versus the Netherlands
But, the organization announced, when those boats are ready at Escale à Sète 2024, we will of course duel with them! The French delegation spoke the words: 'We are sure that the Dutch can build that boat. But it is not yet so certain that we will win that duel…'. The competition is excited, but wary.
There you have it. Through a hilarious coincidence with an old painting from 1625, we spontaneously entered the future with a new foreign adventure! If you want to call it a coincidence of course…